In part 1, I wrote mostly about the onboard experience on The Wonder, so here I'll talk about our stops in the ports of Skagway, Juneau and Ketchikan.

Looking aft into the port of Skagway at breakfast
Our first and most northern stop was in Skagway. This little town of 850 people sits wedged between the mountains at the foot of a long trail and railway that heads up into White Pass at 2,888 feet, where you connect to British Columbia in Canada, and further into Yukon. It's a gold rush city that mostly is a tourist destination. It's filled with shops and various forms of entertainment, and arguably the most important business there, the rail line.
The excursions on the White Pass & Yukon Route Railroad are a lot of the reason that the Alaska cruise itinerary was so appealing. Having a 6-year-old naturally means a love for trains, and it's a pretty amazing way to see sights that you can't otherwise see very easily. There are a number of different trips offered, going to different lengths, but ours stopped at the Canadian border. It's about 20 miles of track to the summit, which means it's somewhat steep in places to get to almost 3k feet. There is a lot of history, as you can imagine, in the trail as it stood, as well as the railway itself, which was built just before the turn of the century. Lots of death, too. There's a cross erected on a ledge that's actually a house-sized boulder that fell on a couple of guys and their animals during construction, for example. There's a beautiful steel bridge up there that was an engineering marvel for its time, that has since been retired.
It's neat to see how the line snakes up the sides of the mountains. As they run a number of trains at any given time, you can see another one either above or below you, miles away. There's a particularly breathtaking view near the top that looks all the way back down to the town, where you can see a little dot that is the cruise ships. Just after the summit, next to a 5-mile long lake, there is some room for a second track where the trains do a ballet of passing each other and heading back down, reversing by moving the engines from the front to the back. It's a neat trick, because the seats in the passenger cars simply flip the backs.
I was struck by the sheer scope of what nature created there, and also what humans achieved in 1898 in getting up there. I suppose greed gets partial credit as a motivator, but it reminds me that people have been able to achieve great things when they wanted to. In light of all the terrible things going on back on the mainland, it helped me keep perspective. Mother nature is pretty good at reminding us how small we are.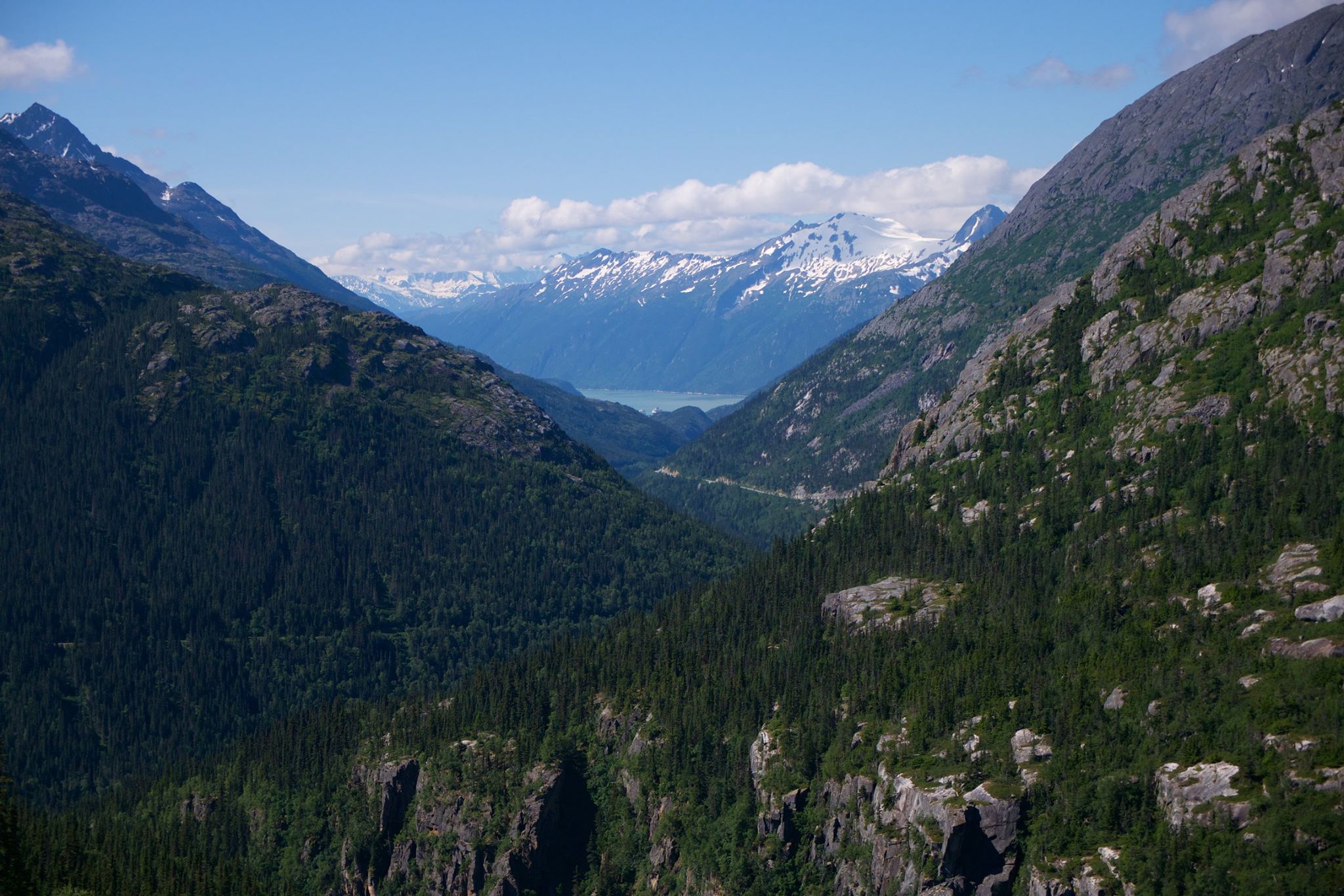 Looking back down from near the summit. That little dot on the water is the Disney Wonder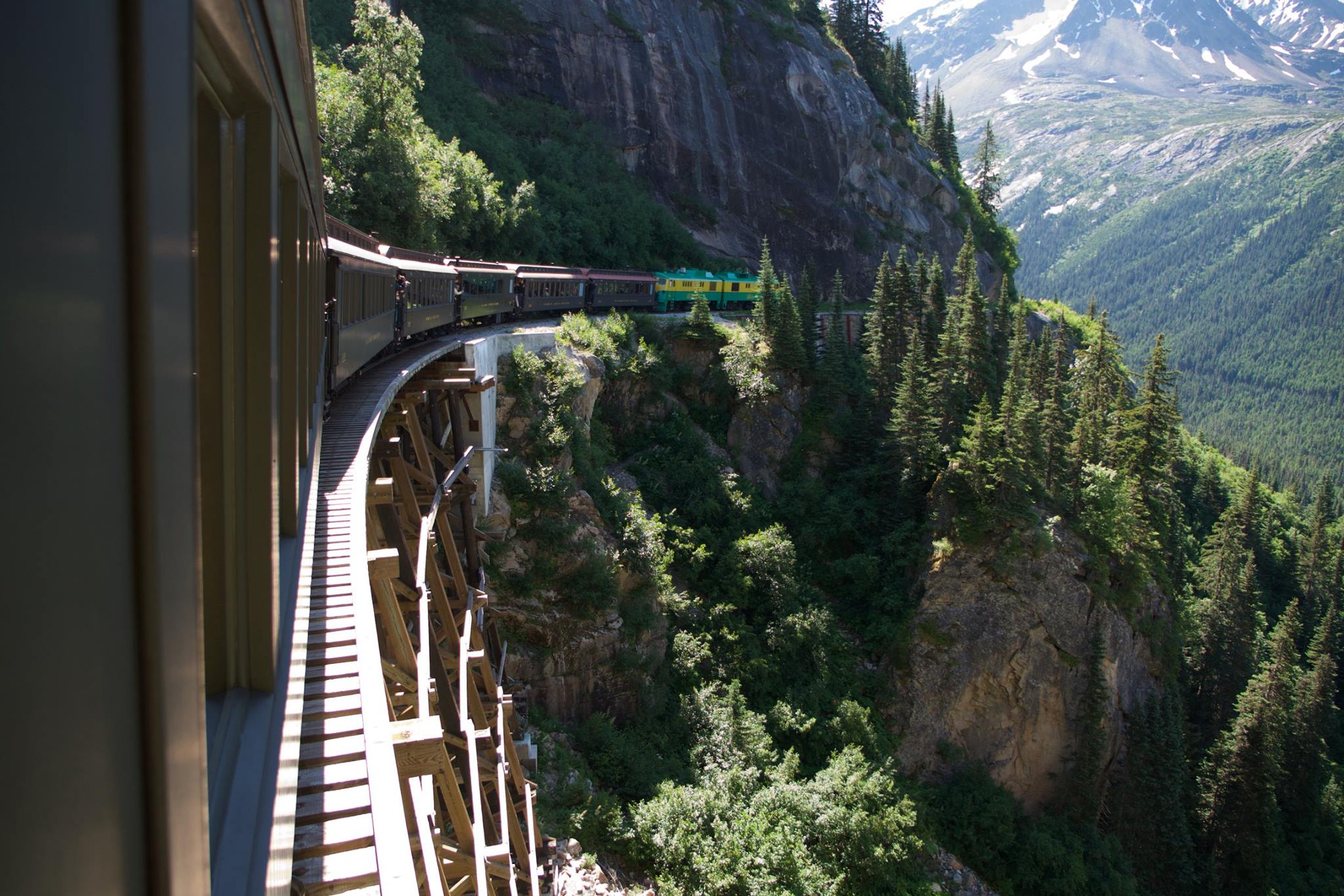 It was fantastic that you could hang out of the train between cars, but also frightening that there were sheer drops everywhere
We started to walk around in Skagway, but Simon and I got pretty bored with it quickly. It's mostly a bunch of shops selling a bunch of crap. Diana was motivated, however, for some specific items and looked around a bit more while Simon and I returned to the ship. We were blessed with nearly perfect weather, so we hit the ice cream machines. That cold that I mentioned before was also starting to wear on me a bit, so I crashed for a bit before dinner, the onboard Frozen themed party and that night's theatrical show.
The next day put us in Juneau, the capital of Alaska. The weather was dry but cloudy, and the cold symptoms were definitely slowing me down. We booked a short excursion that bused us out to the national park to see the Mendenhall Glacier, then offered quick shuttle service a few blocks from the ship to the Mt. Roberts tramway. Being the government seat for the state, it was somewhat entertaining to hear our various guides throughout the trip regularly disavow Sarah Palin. I get the impression that Alaskans are very anxious to distance themselves from their former governor.
The national park service has a nice setup with a short nature trail and a longer trail that takes you to the Nugget Falls, along with a visitor center. A sign there points out that the glacier was actually 1 3/4 miles closer to the center when it opened in the late 50's, obviously a symptom of climate change (the difference, looking at the photos on Wikipedia are staggering). Unfortunately, the tour we booked gave us only about 90 minutes, so we couldn't go out to the falls. If we ever do this itinerary again, we'll find a way to spend more time there.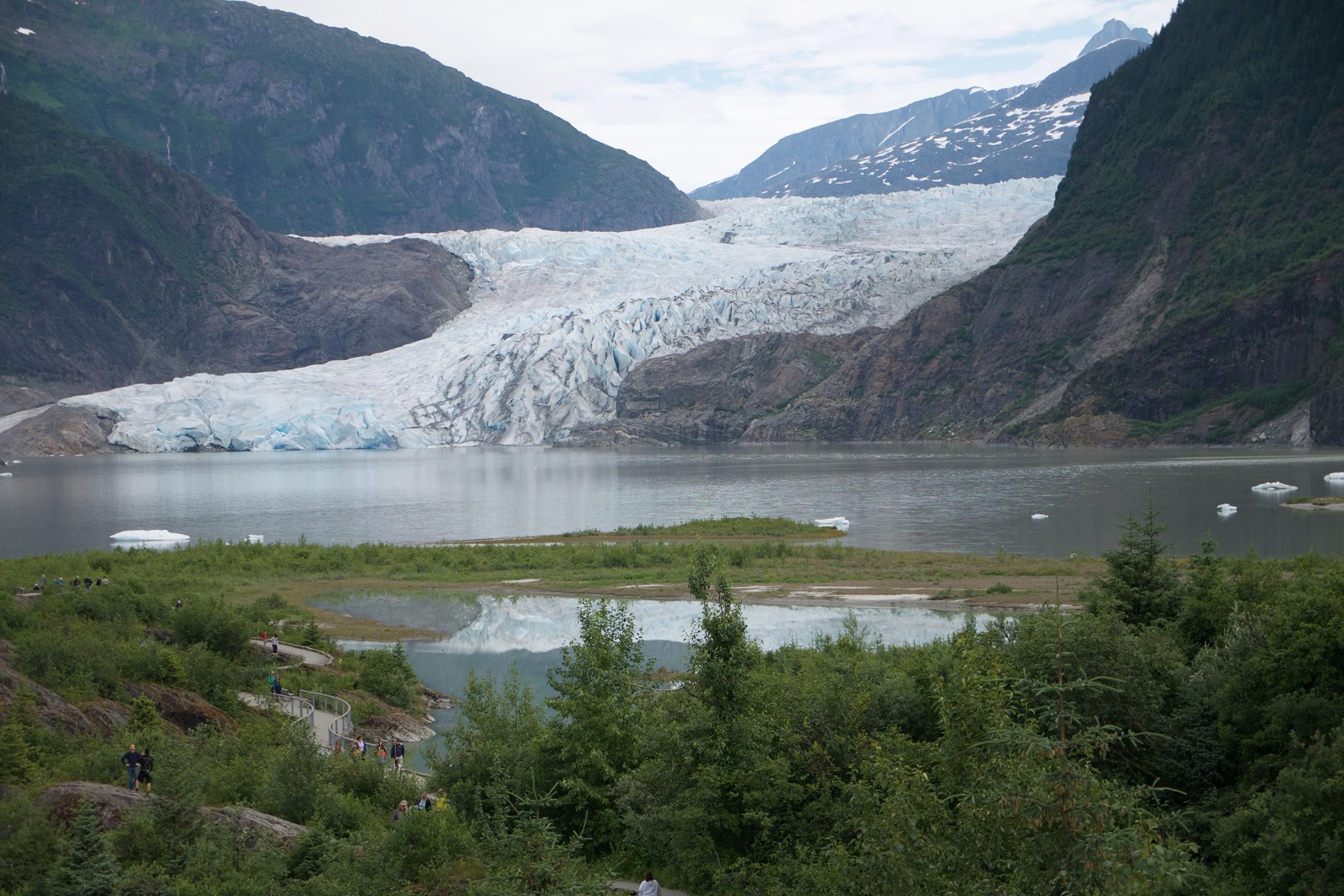 The Mendenhall Glacier
After visiting the park, we headed up the mountain on what is apparently the steepest and/or tallest tram of its kind in the US. While it was a little cloudy, the views were still stunning from up there. There was a longer tail that went to the summit of Mt. Roberts, but my cold made me disinterested in going much further than the closer trail loop we did. After going back to lunch, where seaplanes were taking off and landing at eye level next to deck 10 of the ship, I crashed for a long nap while Simon and Diana went and did some laps on the tram. Fortunately, that evening was a turning point in the way I felt.

The view from up on Mt. Roberts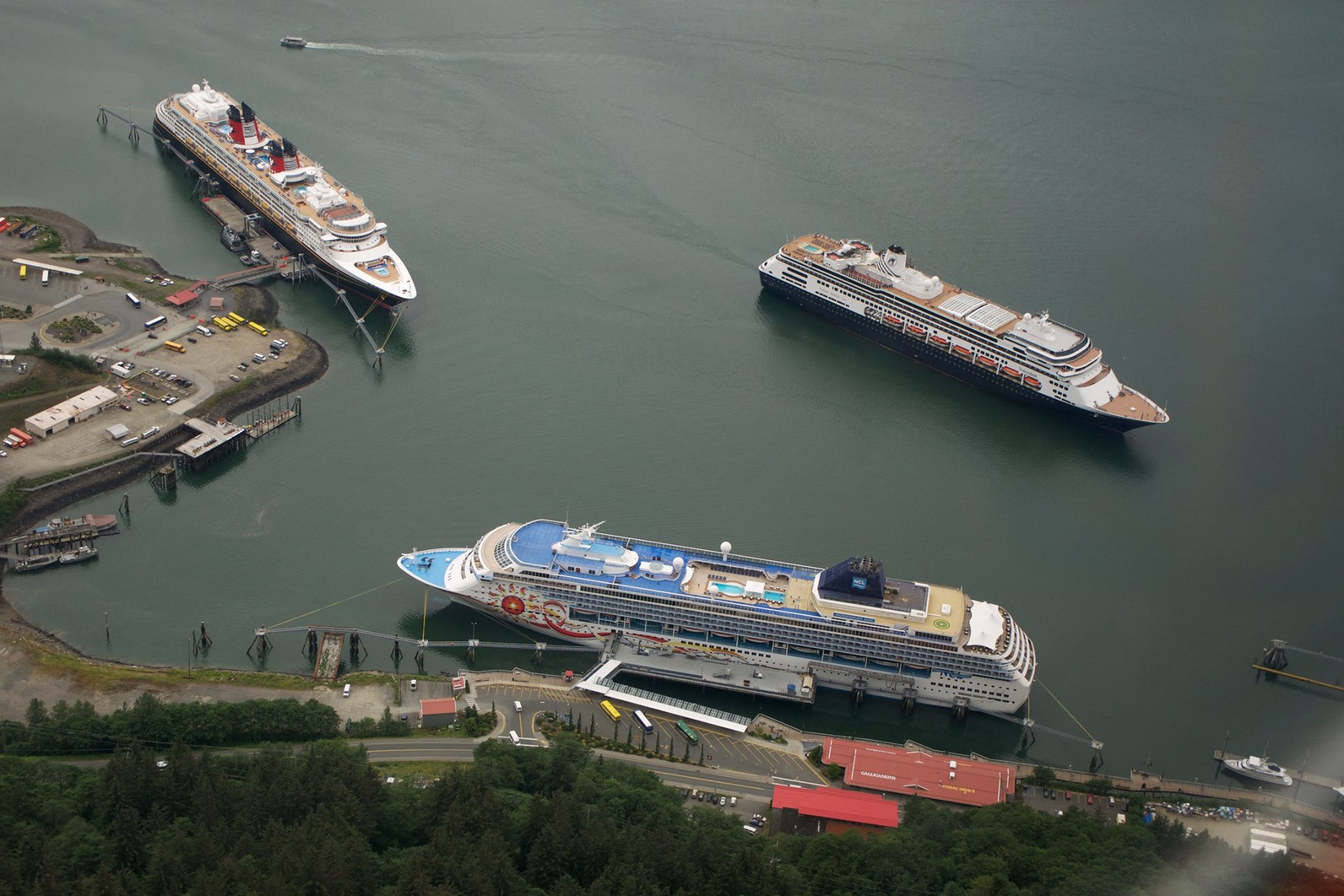 There's our floating hotel at left
Our final port was Ketchikan. This is a largely blue collar fishing town mixed with a robust tourist business. We didn't plan anything in advance for this port, though there was a lot of buzz about the lumberjack shows a few blocks from the dock. They warned us the night before that it rains pretty much every day in Ketchikan, so imagine our surprise when it was sunny and warm. Like the other ports, the immediate area near the waterfront is filled with shops and jewelry stores. That said, this town has a very vocal group of local business owners intent on letting you know that they're local. We noticed the duck boats driving around and various busses and carts meant to take people to different things, but we decided instead to just walk around a bit through some of the local parks. In particular, we walked along Creek Street, which is, as the name implies, a series of shops along a creek with a connecting boardwalk. I didn't spot any salmon, but they apparently hang out here.
We didn't spend a ton of time in town, but we got a lot of walking in, and as I was feeling infinitely better, it was nice to be moving about. We were pretty content to return to the ship as Simon was being difficult.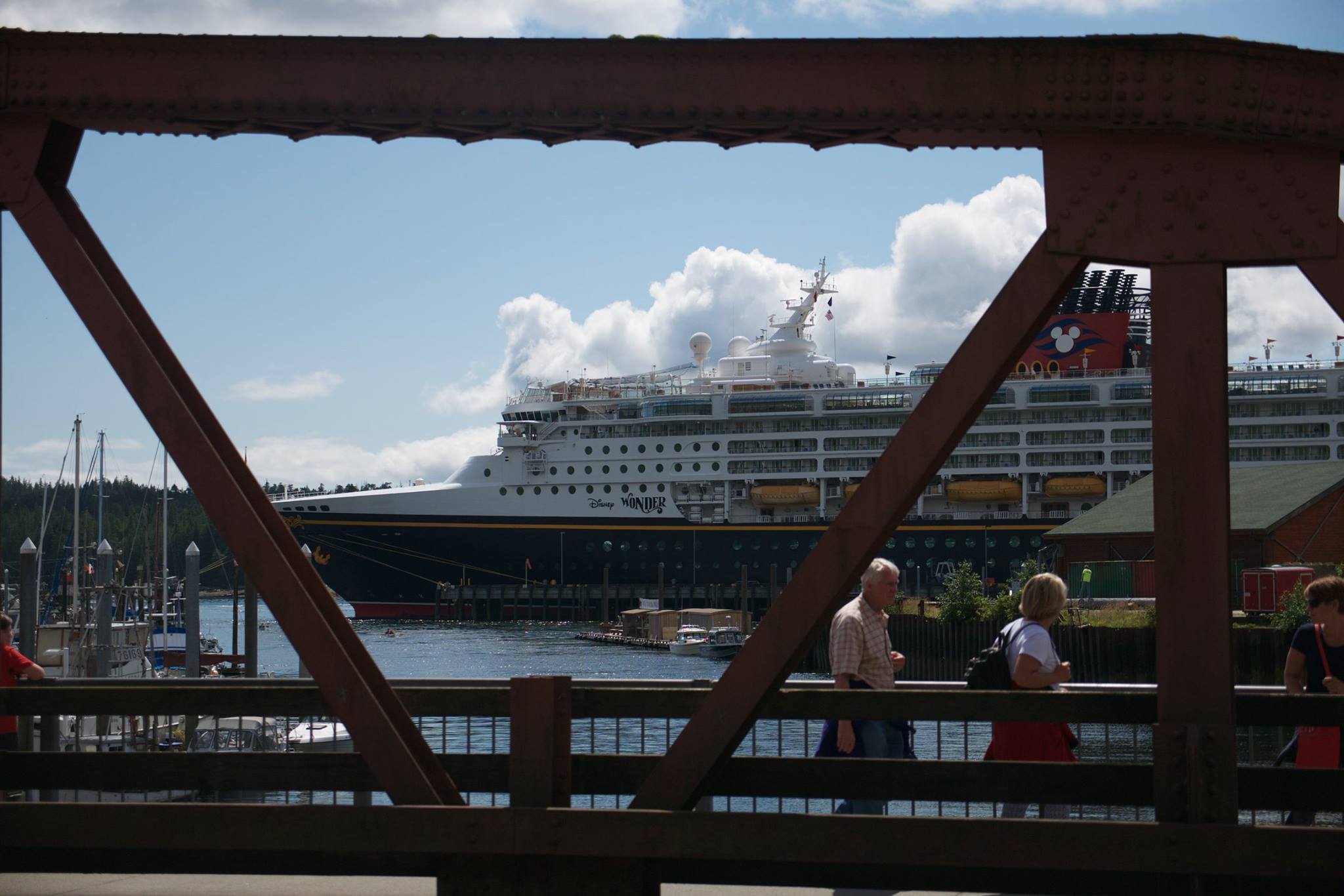 Looking back at the ship from the end of Creek Street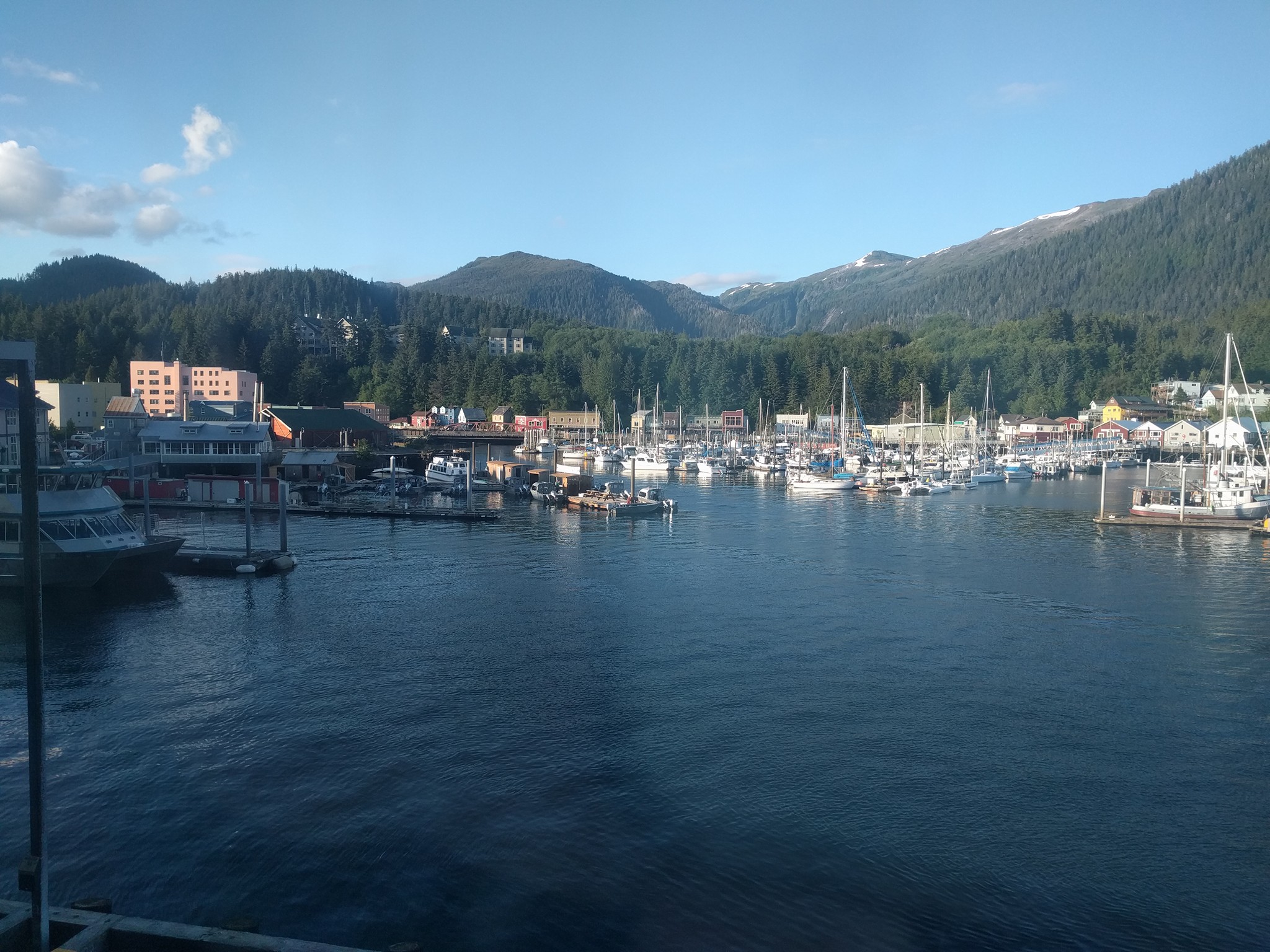 The pretty part of Ketchikan, bathed in a rare late afternoon sun
Exploring the ports on a cruise is new territory for me, despite having eight prior sailing under my belt. All of our cruises were 3 and 4-day Bahama itineraries that only stopped in Nassau and Castaway Cay. We never get off in Nassau, partly because of its reputation, but mostly because it doesn't offer anything that we can't enjoy on the ship (yes, I realize we could go to Atlantis). Alaska is so opposite of the tropics. It's just insanely beautiful, and navigating through the inner passages in particular is wonderful. The locals are generally very friendly. If there's any big takeaway from this trip, it's that it will be a great way to sample Europe, hopefully in the next few years. But I also want to do this itinerary again at some point. I realize that duplicating the weather isn't likely, but still, what an amazing place.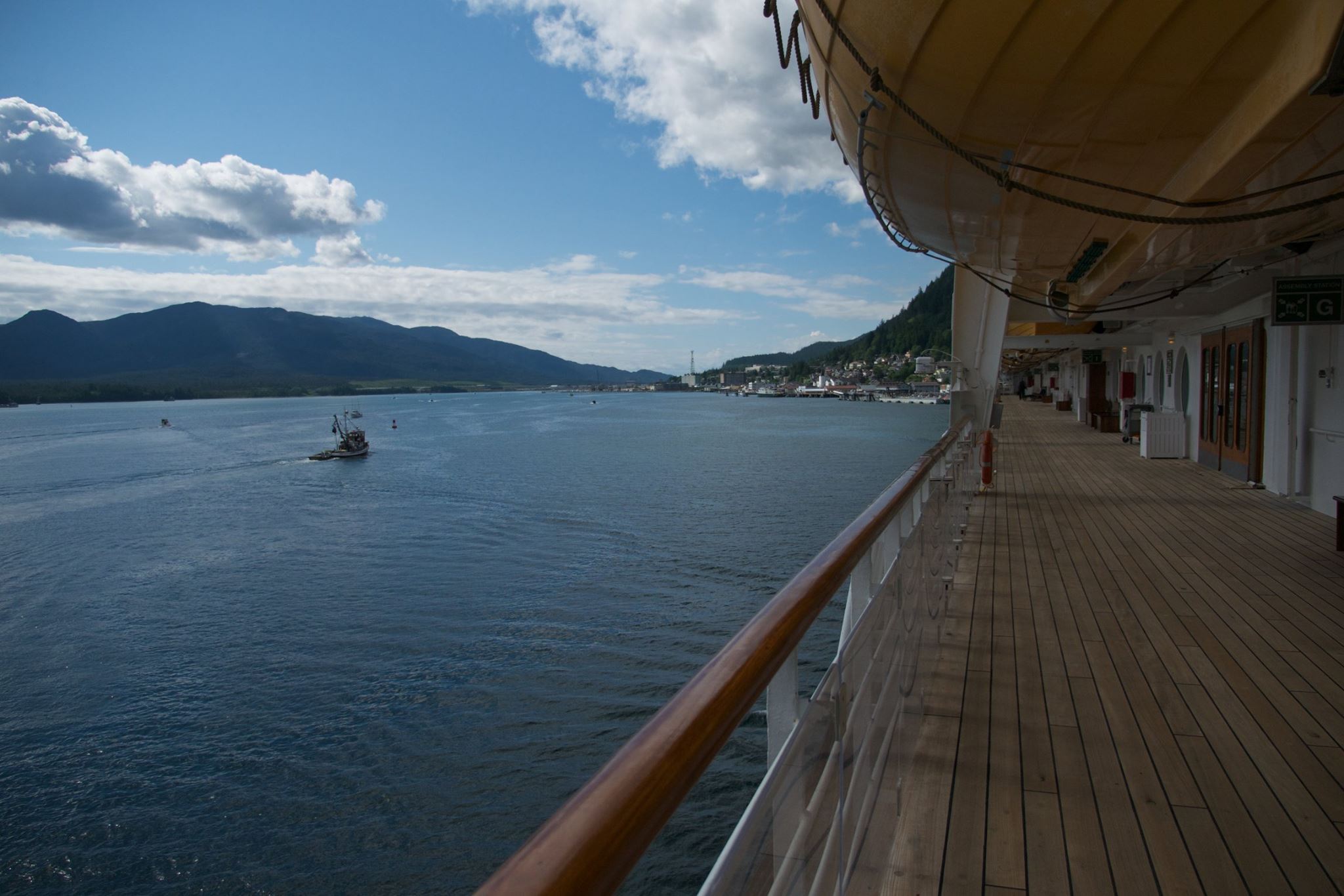 Headed out to our last day at sea