Diana was given a Ford Focus for a rental for her business trip. One of my frustrations with American cars has always been the complete disregard for ergonomics and human factors. So check out this center console...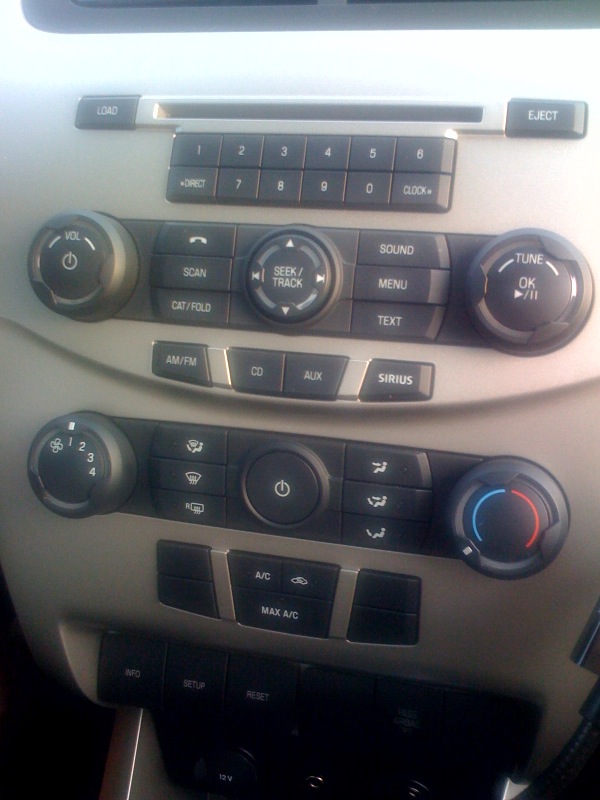 If this were a Web site's UI, it would be the equivalent of a 90's GeoCities page. It seems as though no consideration was given to design at all. It's a grid of buttons, with a few dials stuck in there (which are also poorly designed).
Start with the numeric buttons. First off, does anyone really need 10 of them? If so, having a row of six, then a row of four flanked by identical buttons, is completely unnatural feeling. They also have no hints to feel your way around while driving, requiring you to look. For example, many radios have a notch on the middle two buttons, much like those found on your "F" and "J" keys on your keyboard.
The next group of buttons are not clear at all, and then the next group of function buttons are spaced out in a way that doesn't make sense.
Then what's up with the climate controls? Why is there a power button, and how do I even know it's for the heat and A/C? Every other sensible arrangement has "power" associated with the fan speed, which makes more sense. The six blowing combinations as buttons doesn't make sense either, and a knob would be more logical. Then there are more random buttons below it.
The key to successful car controls is to make them as simple as possible, and navigable by touch as much as possible. This is a ton of clutter, it's ugly and hard to remember by touch.